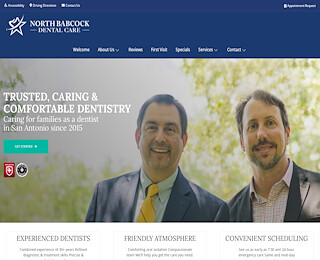 Cosmetic dentistry is no longer a preserve of the wealthy and celebrities. There are now various options available for you to improve your smile and at affordable prices. Want that 100-watt smile? You can get it from a North Babcock Dental Care Cosmetic Dentist in San Antonio, TX.
What is Cosmetic Dentistry?
It is a field of dentistry that focuses on improving the appearance of your teeth, smile, and mouth. We not only enhance and restore the functionality of your mouth; we also enhance your smile aesthetics using a variety of techniques and technologies. Are you self-conscious about your teeth? Let us make it better for you and give you a chance to enjoy your smile.
Are your teeth in good condition? You may need teeth whitening to highlight your already breathtaking smile. Boost your confidence by fixing that broken tooth or replacing that missing tooth. By investing in a brighter smile, you are investing in a brighter future, filled with tremendous career and social opportunities.
How Do I Find a Good Cosmetic Dentist?
Choosing the right cosmetic dentist is crucial to your achieving that desired look. Keep in mind that any general dentist can perform cosmetic procedures. Achieving a high level of skill and competence, however, requires specialized training and study, which takes many years to acquire. Our cosmetic dentists are well trained both in the field and at the classroom, with each one earning a Doctor of Dental Surgery (DDS) degree.
What Our Cosmetic Dentist in San Antonio, TX Will Do For You:   
We use various advanced techniques to give you a smile you desire. Consider the following services in our office:
Gum sculpting- Do you have an overly gummy smile or an uneven gum line? We can remedy this and give you a brighter and better-looking smile through sculpting your gums. We can lengthen small teeth, shorten long teeth, and even out a crooked gum line.
Bonding and veneers - Treatments that allows= you to change how your smile looks by replacing missing teeth, reshaping your teeth, lengthening small teeth, etc. We can provide you with a natural-looking smile that fits you beautifully.  
Teeth whitening- Do you want a brighter, stain-free smile? We have the best solution for you. We offer in-office, take-home, and laser treatments which you can choose from depending on your preference.
Six-month smiles- Do you want to straighten misaligned and crooked teeth? We have a better solution than the dreaded traditional metal braces, i.e., invisible aligners and clear braces. Invisible aligners slowly shift your teeth within a short time. Clear braces perform similarly to regular braces but are tooth-colored, making them hard to notice.
Meeting Your Smile Goals
Our main aim is to provide you with the highest level of quality and comprehensive dental care for total well-being. With a highly qualified and experienced cosmetic dentist in San Antonio, TX, from North Babcock Dental Care, you receive the best dental care at affordable rates. Get in touch with us today and experience first-class dental services.
Cosmetic Dentist San Antonio Tx
North Babcock Dental Care
2106911200
5970 Babcock Road, San Antonio, TX 78240
View Larger Map