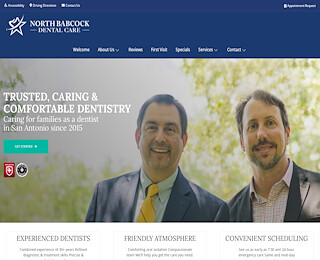 If you are ready for dental implants in San Antonio, and you are in the market for an experienced and affordable implant dentist, consider North Babcock Dental Care. Dental implants are a serious investment in your health and wellness, and if you select the right dentist, you can have a customized solution that lasts a lifetime. North Babcock Dental Care offers discounted first-time patient visits so that you can cheaply shop around for a dentist and determine if our clinic is right for you.
How Can I Learn More About Dental Implants in San Antonio?
When you come in for your first consultation, we'll assess your current oral health and hygiene; we'll also determine whether you are a good candidate for dental implants. Our team will assist you in designing a customized implant solution that meets your needs, and we'll discuss costs and payment options with you. More often than not, we make dental implants attainable for our patients.
What are the Benefits of Dental Implants?
There are many cosmetic benefits that come with dental implants, but there are also just as many health benefits too. Since North Babcock Dental Care makes our services so affordable, dental implants are very popular in our San Antonio clinic. Here, people can get the implants they need at a price and payment structure that they can afford.
When we talk about the cosmetic benefits of dental implants, we are talking about two things primarily:
Improved appearance
Greater self-esteem
With dental implants you will have a permanent solution that will lastfor many years, and you won't have to worry about covering your mouth when you smile or laugh. As well, you'll no longer be self-conscious about your teeth, and you'll find yourself thinking, "I haven't thought about the way my teeth look in a while."
At North Babcock Dental Care, we manufacture implants in-house, with each implant designed to match the shape, color, and size of the surrounding teeth; therefore, our patients end up with a very natural-looking permanent tooth. Because the implant is durable, it is also very natural-feeling, which is essential. A dental implant achieves the natural feel because a titanium anchor implants into the jaw bone, which serves as a literal tooth replacement rather than just a cover.
What are the Health Benefits of Dental Implants?
In addition to the obvious cosmetic benefits of dental implants, our patients also benefit significantly from them concerning their overall health and well-being. For example, people with dental implants enjoy easier eating, improved speech, and a host of other health benefits, in addition to the benefits of convenience, appearance, and comfort. Since the implant anchors into the jaw bone, bone loss prevention, and thus, additional tooth loss prevention further benefit the patient.
Schedule an Appointment
If you are interested in learning more about dental implants in San Antonio, schedule a consultation with North Babcock Dental Care. We'd love to meet you and share with you more information regarding dental implants in San Antonio.
Dental Implants San Antonio
North Babcock Dental Care
2106911200
5970 Babcock Road, San Antonio, TX 78240
View Larger Map