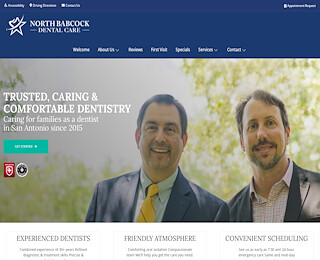 Are you looking for a great dentist in the 78240 zip code? Contact North Babcock Dental Care in San Antonio. We have been providing quality dental care for the San Antonio area since 2015.
How Do I Choose A New Dentist?
Choosing a new dentist doesn't have to be complicated. You need to do some research first. Look for a dentist with a good reputation. Ask your friends, family, acquaintances, and coworkers who their dentist is. What do they like about their dentist? What do they not like about her/him? People will not usually recommend a dentist if they have had a bad experience at their office.
Your state will have a "State Dental Board," and dentists are held accountable. Make sure the dentist you choose does not have any questionable claims against them. You need to interview your dentist. Interviewing a new dentist isn't a difficult task, you need to call their office and ask them some questions: where did they graduate, how long they have been practicing, what type of services, how many staff members and how long the staff members have been with the dentist. You will typically be able to find a lot of the information you need online, but it is good to find out how the staff treats you when you are asking questions.
What Services Do We Offer?
A dentist in the 78240 zip code will offer many services depending on the type of dental office you choose.
Preventive Services include:
Continuing education on proper brushing and flossing techniques
oral exams
x-rays
cleanings
sealants
fluoride treatments
Preventive dentistry will keep your teeth and gums in good shape and find problems early. Early detection and treatment are essential to having a healthy smile.
We also offer the following services:
Air Abrasion 
Band & Bracket Orthodontics
Bonding & Veneers
Botox & Fillers 
Composite Fillings
Crown & Bridge
Dental Implants
Dentures
Digital X-Rays
Endodontic Surgery
Gum Sculpting
Hard & Soft Tissue Lasers
Intraoral Camera
Night-guards
Nitrous Oxide
Oral Cancer Check 
Oral Sedation
Panoramic X-Rays
Root Canal Therapy
Sedation
Six Month Smiles®
Sports Mouth-guards
Teeth Whitening
Wisdom Teeth Removal
What Will Happen On My First Visit?
On your first visit to your new dentist, we know you will want to know about the people who will be taking care of you and your family. We have a comprehensive website created so you can familiarize yourself with our office and our dentists.
We will take all of your information at the front desk, including your intake forms. We need a detailed medical and dental history. Several medical conditions can adversely impact your dental health, including Diabetes, Chronic kidney disease, stomach ulcers, acid reflux, and high blood pressure.
Once we have your history and know what you expect, we can customize a dental plan for you. Our professional hygienists and dentists want to provide you with the best care possible. For a great dentist in the 78240 zip code area, contact North Babcock Dental Care. We provide compassionate and comprehensive dental care.
Dentist 78240
North Babcock Dental Care
2106911200
5970 Babcock Road, San Antonio, TX 78240
View Larger Map