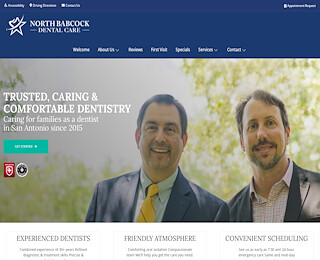 Your mouth is the gateway to the rest of your body, therefore, it should come as no surprise that people with poor oral health and hygiene suffer from a higher rate of other ailments, such as heart disease, throat cancer, and stomach viruses. You must guard your health through regular visits to the dentist in San Antonio.
How Can I Reduce My Risk for Health Problems?
At North Babcock Dental Care, we promote oral health and hygiene through education and routine dental care. The average person should visit a dentist twice a year; these regular checkups provide you with a chance to proactively manage your oral health and spot potential problems before they become serious. You'd be amazed at how many comprehensive studies have linked poor oral health to heart disease and stroke, and you'd be equally surprised at how something as seemingly simple as having your teeth regularly cleaned and scraped and reduce that risk!
The risk of cardiovascular disease and other ailments associated with poor oral health and hygiene apparently has a lot to do with the inflammation in the gums that results from long lapses between dentist visits. Your blood vessels will function optimally throughout your entire body when your dentist removes or reduce the inflammation-causing bacteria that is present on your teeth and gums.
What Are the Benefits of Seeing My Dentist Regularly?
Oral cancer is one of the most common forms of cancer in the United States; that's the bad news! The good news is that oral cancer has a near 100% survival rate when caught in its early stages. However, oral cancer has devastating effects if it is left unchecked. We're not trying to scare you into seeing a dentist in San Antonio. We're just telling you the facts!
Try Our Dental Clinic Risk-Free
Whether you choose North Babcock Dental Care or another dentist in the region, we want all of our neighbors to get the kind of dental care that they need. North Babcock Dental Care is currently accepting patients, so you won't have to commit! Contact us to learn about first-time patient discounts; new patients can try our services at a deeply discounted price; that way, if they don't like it, they can try another dentist.
Comprehensive Dental Care
There are many benefits in going to the dentist regularly, and North Babcock Dental Care offers a wide variety of dental services. We offer everything from teeth cleanings to dental implants. We accept patients from 2-years-old to 100-years-old. Call us today to schedule your initial appointment and consultation.
If you need to see a dentist in San Antonio, give us a call or stop in on during regular business hours to visit our dental clinic. We look forward to meeting you and providing you with San Antonio's best dentistry.
Dentist San Antonio
North Babcock Dental Care
2106911200
5970 Babcock Road, San Antonio, TX 78240
View Larger Map