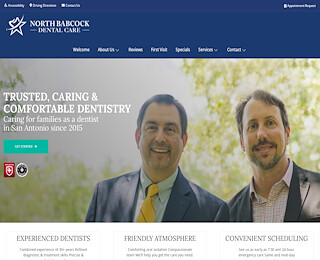 Unfortunately, dental emergencies don't always happen during regular business hours. That is why North Babcock Dental Care offers 24-hour emergency dentistry. While you want to avoid unnecessary trips to the ER, you also want to make sure that you get the treatment that you need when you need it. North Babcock Dental Care would like to share some information with you that can help you determine if you have a dental emergency on-hand, what to do, and where to go.
If you suspect that you have a dental emergency, and you need a San Antonio emergency dentist, give us a call; even if you're not sure, it's better to be safe than sorry!
Is It a Dental Emergency?
Some of the most common types of dental emergencies include cracked, chipped, and broken teeth. These types of injuries can result from sports games, a fall, or even biting into a hard piece of food. In instances involving minor tooth damage, it is possible to wait until the next day to see your dentist. However, in cases of severe or extensive damage, you need to see an emergency dentist ASAP.
When dealing with a knocked-out tooth, if possible, recover the tooth and handle it with extreme sensitivity. Keep your tooth in a small container of milk or even in your saliva if milk is not available; this will help to preserve the tooth long enough for you to get to the dentist. If you are bleeding from the tooth socket where the tooth has broken, apply a cold, wet compress.
Do I Need to See a San Antonio Emergency Dentist?
Sometimes, tooth pain can become so intense and so overwhelming that you can't wait until the next business day to get treatment. In cases like these, if you have tried an over-the-counter pain reliever but to no avail, then you may need to see an emergency dentist. By all means, give us a call. Even if we are not available, we have an answering system that can provide you with directions to get the care you need.
Another serious situation occurs when a tooth becomes abscessed since an abscess in the mouth can be exceptionally painful and dangerous. If you can't reach an emergency dentist within a reasonable amount of time, take a trip to the ER. Remember that it's better to be safe than sorry.
We're Happy to Help
If you are not sure if you have a dental emergency or require the expertise of our team to determine the next course of action regarding treatment, give North Babcock Dental Care a call. We are proud of our reputation as one of the few places to go when you need to see a San Antonio emergency dentist.
.
North Babcock Dental Care
2106911200
5970 Babcock Road, San Antonio, TX 78240
View Larger Map