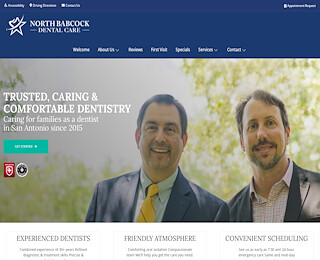 Are you looking to get comprehensive dental work done for you and your family? You no longer have to visit different dentist offices to get complete services. At North Babcock Dental Care, you will find a San Antonio family dentist who will cater to all your family's dental needs.
What is a Family Dentist?
A family dentist is, in more ways than one, similar to a general dentist. At North Babcock Dental Care, we are just as qualified and have the proper qualifications and experience to carry out dental procedures. The critical difference between a general dentist and a family dentist, however, is that we specialize in providing dental procedures to patients of all ages.
Dr. Luis Galvan earned his degree in dentistry from UNITEC University in 1994 and started his first practice soon after while still advancing his education. In addition to his dental degree, Dr. Galvan has an AEGD (Advanced Education in General Dentistry) and has done his Dental Obstetrics GPR (General Practice Residency). Dr. Otto Herod has a dental degree from Baylor College of Dentistry and has invested hundreds of hours in continuing with his education in the field. 
We educate our patients on how to maintain excellent dental care habits regularly. At our dental office, we assure you of the highest level of expertise and professionalism when helping you achieve a beautiful and shiny smile.                  
Why Choose Us As Your San Antonio Family Dentist?
Are you looking for a place to cater to all your family's dental needs? Then you are in the right place. We:
Cater to patients of all age- with our wide array of services, we can meet all your dental needs, at whichever stage of life. We cater for your whole family, treating patients from a year old to a hundred years old.
Your comfort is of utmost importance- we make an effort to make you as comfortable as possible because we understand how nerve-wracking a trip to the dentist can be. When you are comfortable and relaxed, the process is much smoother and more natural.
We open early and close late- Do you want to make your dentist appointment and still have time to get to the office or school on time? We open early enough for you to do just that. We are also open on Saturdays if your weekdays are full, get in touch with us today, and book an appointment on the weekend.
Why Should I See a Family Dentist?
A family dentist is important because we help you build and maintain a healthy oral hygiene practice throughout your life. We understand how teeth change with age, and this helps us tackle every dental problem you may have, at any stage of your life. More important, though, is that we help you prevent and avoid costly dental problems in the future by taking good care of your teeth right now.
Are you looking for a San Antonio family dentist? Get in touch with North Babcock Dental Care today.
.  
North Babcock Dental Care
2106911200
5970 Babcock Road, San Antonio, TX 78240
View Larger Map